L.A's finest DJ Expo has just blessed me with his brand new mix "WHAT IT IS" A Rare Funk 45" Excursion,45 Killer tracks mixed together for your listening pleasure
Prepare to dig deep with DJ Expo's mix of over 70 minutes of all raw, get down to the nitty gritty, funky soul obscurities. All songs are compiled and blended using strictly original vintage 45 records. Features special cover art by Jim Mahfood aka FOOD ONE.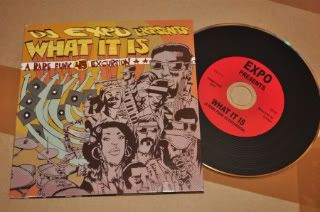 This is the first official mix CD release to be put out by our brother Expo, so please be sure to support.Only 1000 copies have been pressed, with only a few hundred copies remaining in stock
"WHAT IT IS" CD - AVAILABLE NOW!!
Order your copy now at djexpo.com and 40ozcomics.com or from the man himself on ebay!
Highly Recommended Dopeness
Yo! Expo thanks for the Stanley Turrentine "Cherry" lp "Sister Sanctified" is a classic track,been after a mint copy for a while now - Respect